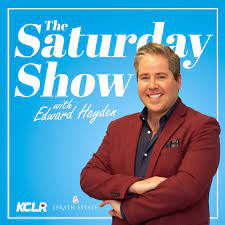 On today's show; we spoke to Kildare lyric soprano Celine Byrne about her upcoming gala concert next Saturday with the Balldonnel singers that is in support of Cois Nore Cancer Support Kilkenny.
Garry Cummins discussed publishing his second book from his brother Fr. John Cummins who sadly passed away in January 2019. "My Life in Your Hands" contains sermons from Fr. John Cummins.
Linda Murray from Beoga Nutrition told us the importance of eating healthy food this November.
Irish writer and novelist Alice Taylor on her new book "Come Sit Awhile" where she invites the reader to share moments of contemplation in their own time.
Tommy Watts the Head of Design in Design and Crafts Council of Ireland chatted about Irish Design Week taking place from 13th – 17th of November. The theme for this year is "Is Folklore the Future ?"
Mark Duffy the Chair Person of Kilkenny Music Society spoke about the Society's 50th Anniversary and amazing lineup of events.
Our resident gardening expert Shirley Lanigan talks all about November gardens.
Listen Back Here :