KCLR Sport
TJ Reid and Richie Hogan nominated for hurler of the year as Kilkenny bag 12 All Star shortlists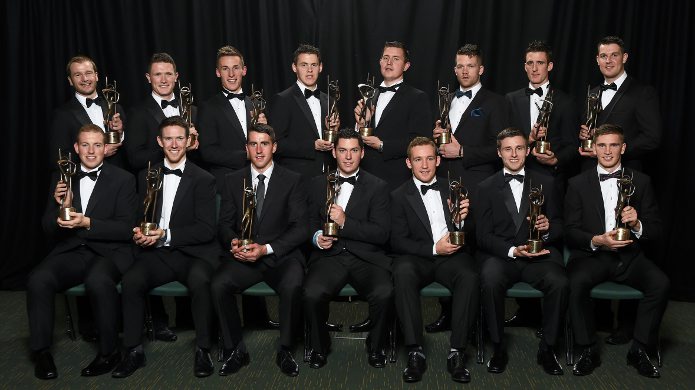 TJ Reid and Richie Hogan have been nominated for GAA/GPA hurler of the year.
Tipperary's Seamus Callanan is also on the shortlist.
Kilkenny and Galway have each picked up 12 All Star nominations while Waterford have 11 and Tipp have 7.
For Kilkenny Eoin Murphy is nominated in goal – in the backs Cillian Buckley Joey Holden, Paul Murphy, Kieran Joyce and Pádraic Walsh are all in contention.
Midfielders Michael Fennelly and Conor Fogarty are nominated and in the forwards Ger Aylward, TJ Reid, Richie Hogan and Eoin Larkin all get the nod.
In the young player category Jason Flynn and Cathal Mannion of Galway get the nod along with Tadhg De Burca of Waterford.
Cork, Clare and Dublin each have one.
The full details…..
Goalkeepers
Colm Callanan (Galway), Eoin Murphy (Kilkenny), Darren Gleeson (Tipperary).
Defenders
Daithí Burke (Galway), Cillian Buckley (Kilkenny), Joey Holden (Kilkenny), Paul Murphy (Kilkenny), Pádraic Walsh (Kilkenny), Johnny Coen (Galway), Iarla Tannion (Galway), Pádraig Mannion (Galway), Kieran Joyce (Kilkenny), Pádraic Maher (Tipperary), Cathal Barrett (Tipperary), James Barry (Tipperary), Noel Connors (Waterford), Tadhg de Búrca (Waterford), Shane Fives (Waterford), Austin Gleeson (Waterford), Barry Coughlan (Waterford), Philip Mahony (Waterford).
Midfielders
Andrew Smith (Galway), David Burke (Galway), Michael Fennelly (Kilkenny), Conor Fogarty (Kilkenny), Kevin Moran (Waterford), Jamie Barron (Waterford).
Forwards
Tony Kelly (Clare), Séamus Harnedy (Cork), Mark Schutte (Dublin), Cathal Mannion (Galway), Jason Flynn (Galway), Jonathan Glynn (Galway), Joe Canning (Galway), Conor Whelan (Galway), Ger Aylward (Kilkenny), TJ Reid (Kilkenny), Eoin Larkin (Kilkenny), Richie Hogan (Kilkenny), Brendan Maher (Tipperary), John O'Dwyer (Tipperary), Séamus Callanan (Tipperary), Colin Dunford (Waterford), Maurice Shanahan (Waterford), Michael Walsh (Waterford).