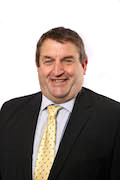 Derek Deane is no longer looking for the Presidency of the IFA.
The outgoing Carlow chairman has issued a statement to say he is withdrawing from the race at this time.
It's a race that he was never officially part of as he failed to make the nominations deadline but had appealed to be included afterwards.
It follows what's been described as a very heated meeting of the Carlow county executive earlier this week where the majority of local members walked out.
Gilbert Smith was among them – he told KCLR Live a lot of the members believed he should have walked away when he didn't make the nomination deadline first time.