KCLR News
First day in the Dáil for new Carlow-Kilkenny TD
Today is the first sitting of the 32nd Dail.
Carlow Kilkenny is sending two TD's each from Fianna Fail and Fine Gael and there's one new face in the form of Sinn Fein Deputy Kathleen Funchion.
It's a big day for the country and all the 158 newly elected TD's but all the more so for Carlow Kilkenny's newest deputy – Kathleen Funchion.
The former Kilkenny councillor won't be coming in completely cold at 10.30 this morning – she was up in Leinster house yesterday getting used to her new surroundings.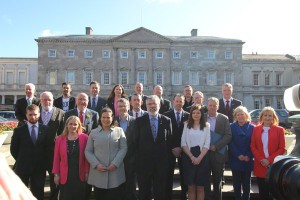 The first business is the election of a Ceann Comhairle which will for the first time be done by secret ballot.
Once that's done then nominations for Taoiseach will be voted on but with none of the nominees likely to get the majority support needed the Dail will have to adjourn for up to 4 weeks.
In the meantime our local Fianna Fail and Fine Gael TDs have been having their say on any potential grand coalition between the 2 – John McGuinness and Bobby Aylward have called on their party to consider it for the good of the country.
Deputy Aylward has reportedly said the prospect of a deal is more likely if Enda Kenny was not leader.
Meanwhile Carlow Fine Gael Deputy Pat Deering has suggested any Fianna Fail ministers who served in Cabinet during the boom should not get any posts if the parties do enter coalition.