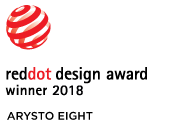 A company with a base in Kilkenny has been awarded an international seal of outstanding design quality.
Merlyn Showering is based at Purcellsinch Industrial Estate close to the city & retails across the UK & Ireland.
It showcased an innovative design with its newly launched Arysto Eight Infold Door enclosure. That won it the Red Dot in what's considered one of the world's largest design industry competitions.