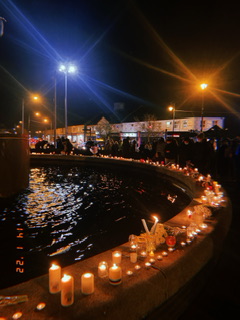 By Amy McLoughlin
A year ago today Tullamore became more  than the place where my grandmother hailed from
And where I danced in my debs dress in shoes that were too tight until my feet were numb.
A year ago today Tullamore became the epicenter as Ireland became a country undone.
Rocked to the core by the story of a girl who just went out for a run.
I have a dear friend,
A future primary school teacher studying in Mary I
Much like Ashling, she has a dream to make a difference in young people's lives.
I see a lot of Ashling's life mirrored in hers.
In her hopes and situations.
It's terrifying to think quickly Ashling's New Year's aspirations became a murder investigation.
I don't know why the outpour happened at this one case and not at the 238 that had before this taken place.
Perhaps like me, you could see Ashling reflected in those around you.
Perhaps like me, you wondered if this happened to her…
I went to a vigil.
I had never been to one before.
Never felt so much anger and sadness mixed into a deathly silence.
Women of all ages,
Mothers bringing their sons
All there lighting candles
For a girl who just went for a run.
Light glowed in a halo around the town fountain that night.
I watched an elderly woman cry alone with no one's hand to hold
I saw so much sorrow in her eyes.
So much grief for someone she never knew.
But maybe you don't need to meet someone to understand them.
Maybe you just need to understand the pain that they went through.
I held a friend that night and cried for that woman that I had never met.
Cried for women across the country who don't have a safe place left
In trembling hands I clutched a beacon of light that reflected in my eyes
In memory of a premature severance of life.
I look back on those days.
The anger,
The sadness,
And I think that just six weeks after
The world just moved on as if what happened hadn't been a disaster.
I can't help but wonder what would have been enough that day.
Pepper Spray
Lighted pathways
Fake phone calls and still
In the middle of the day there is a risk you could be killed.
I don't mean to sound dramatic, and I don't speak with conjecture.
The lives of the 240 women who have died at the hands of men in this country are the architecture of this lecture.
Christine Quinn,
Margueite O'Dwyer,
Joselita de Silva,
Lorraine O'Connor,
Gillian Thornton.
Marian O'Leary,
Lives lost young and old
Sharon Whelan and her children.
Ashling Murphy is not the first.
Sadly Bruna Fonseca will not be the last
Will #StolenLives trend in the future, Just as it has in the past?

I wonder is this what Ashling would have wanted?
Her name on the lips of 1000s,
Posters,
Candles,
Tears and flowers all etched on the walls of history.
But there are three things we cannot control in this life:
Who lives
Who dies and
Who tells our story.
Would she have wanted a fight for justice,
and vigils
and parades
and movements in her honor?
Would she have wanted every young girl growing up in Ireland to know this story?
Would she have wanted my future daughter to learn what happened in Tullamore that day, that another life disappeared along the stretch we call Fiona's way?
They say you die twice.
The first one they place you in the ground.
The second the last time your name is spoken on this earth.
I hope that ashing Murphy never dies a second time.
I hope we keep speaking her name.
I hope we continue to feel the anger that rumbled across the Emerald aisle that day.
I hope we remember
And we fight in her memory or the life of a teacher
A sister
A daughter
Would have been lost for nothing more than tokenistic words and ignored female concerns.
My thoughts would always turn to the children in the class that she taught.
I wonder what it was like coming to school that day, the sun shining bright.
Did they even understand as the grown ups explained?
Life and death is not something a kid should ever have to face.
It's a fact of life.
That one in three women experienced sexual harassment in their lifetime.
It's my own friends who've passed countless sexist comments.
It's bosses and coaches and teachers who've taken advantage.
It's police officers who use their badges to abuse their positions.
It's strangers in the street who have made life altering decisions.
So women have to change their clothes and their behavior.
So that they feel safe, because society continues to blame women instead of telling men not to rape.

Nothing in the 825 words I have written so far will bring Ashling back.
It won't save Bruna Fonseca from that New Year's attack.
It won't do anything unless someone decides to listen.
So we have to continue to roar
We will drown if we whisper.
We have to educate,
prosecute to the furthest degree
Make sure that our children don't become a statistic in a political move that can only be seen as tokenistic.
Her family had only one request on the day that they laid their daughter to rest.
Bring your musical instruments and play as we say goodbye.
So let's play in her honor.
Let the music float to the sky.
A chorus of women who won't let this go.
Who will tell her story and her name so future generations know
Ashling Murphy won't be the last woman murdered in this country.
But she will be the last that we bury and say nothing.
We will sing from one hymn sheet in a song that has already begun.
A song song in memory of a girl who just went out for a run