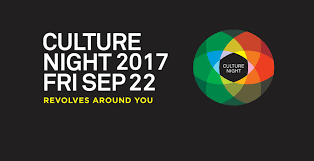 Details of this year's Culture Night events around Carlow and Kilkenny have been announced.
For one night this September you'll be able to visit places and take part in events for free.
Friday the 22nd of September is the date set for this year's national Culture Night.
There are 12 free events happening in Kilkenny and 15 in Carlow.
Among the highlights in Kilkenny are 'A Night at the Museum' at Rothe House from 5 o'clock where you'll be able to visit the three houses of John Rothe.
The local Heritage Council are also hosting an 'Evening of Music, Prose and Poetry' from 8pm; while Kilkenny's International Literary Festival will have its inaugural event at 6 o'clock that day as well.
Meanwhile, in Carlow, a 'Multicultural Celebration' gets things underway from 3pm at the Family Resource Centre in Tullow; there'll be a "hands-on" guided tour of the museum between 4 and 5; while later 20 years of the Aspiro choir will be marked in the Visual from 8.
For more details on all of this year's events you can visit www.culturenight.ie.