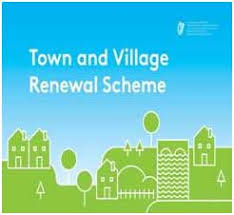 A combined total of €1.4 million has been announced for 14 communities in Carlow and Kilkenny
The money's being awarded under the Town and Village Renewal Scheme.
Two local communities are getting the maximum €200,000: Thomastown will be converting an unused area of the community hall into a custom-built library, while Inistioge's money will go towards restoring and improving the appearance of the Square and the River Park.
The other Kilkenny communities getting money are Ballyhale/Knocktopher who've been granted €100,000 for a new footpath and lighting; €52,000 is going towards the brand development of Castlecomer; and another €100,000 is going to completing a carpark near the playground in Coon and rebuilding a heritage wall.
Nine Carlow communities are being funded:
€100,000 is going to Ardattin for a digital hub; the same is going to enhance the graveyard in Tinryland; and another €100,000 is going towards a playground in Kildavin.
Ballinkillen/Lorum is getting €71,000 for a new café, €69,000 will go to a community and enterprise hub in Clonmore, €51,000 is going to enhance Grange, Myshall and Tinnahinch are getting €99,000 each for village enhancement, and Tullow is getting €96,000 for the same reason.