In News …
Locally:  The chairman of the local joint policing committee is holding a public forum in Kilkenny later this evening to give local people the chance to discuss their experiences of crime.  Meanwhile Gardai are asking for patience from motorists as secondary schools return for a new year while reminding learner drivers that they must be accompanied by a fully qualified driver.
Elsewhere:  Four people have been killed after a drunken man opened fire on a traveller camp in France.  A man remains in hospital in Waterford after a fishing accident yesterday in which another man died after the two were swept off rocks by a wave while fishing in Bunmahon.  The funeral takes place today of Limerick father-of-two Jason Corbett whose children were at the centre of a bitter custody battle in the US.  Flights were temporarily suspended this morning at Dublin Airport due to a fire in a hanger.
Keep up to date with what's going on with our bulletins on weekdays each half hour 7-9am, hourly to 4pm, half hourly again 4-7pm & hourly thereafter.
In Sport (with Aut Even Hospital) …
What of Eoin Larkin & Jackie Tyrrell for the All Ireland senior hurling final?  Our sports team attended last night's annual pre All Ireland media meet at Langton's – here's a snippet of what they were told:
Carlow Town won't be able to field a team for Saturday so their game's off. Kilkenny athlete Ciara Everard has bowed out of the IAAF World Athletic's Championships after finishing 7th in her heat this morning.
Get the latest in local sporting fixtures & results with international news across the day with extra updates on weekend afternoons. You'll also catch some titbits on our website here
In Entertainment …
Kanye West is to be honoured for lifetime achievement at the MTV Video Music Awards this Sunday.   Host is Miley Cyrus & stars due to perform during the 2-hour show include Pharrell Williams, Demi Lovato and Macklemore and Ryan Lewis. Taylor Swift leads the nominations with nine. 
KCLR Breakfast …
Join John Walsh & Edwina Grace as they help get you over the midweek hump with KCLR Breakfast 7-10am.  Plus, have you decided where you'll be for tomorrow's Drive For Liam radio quiz?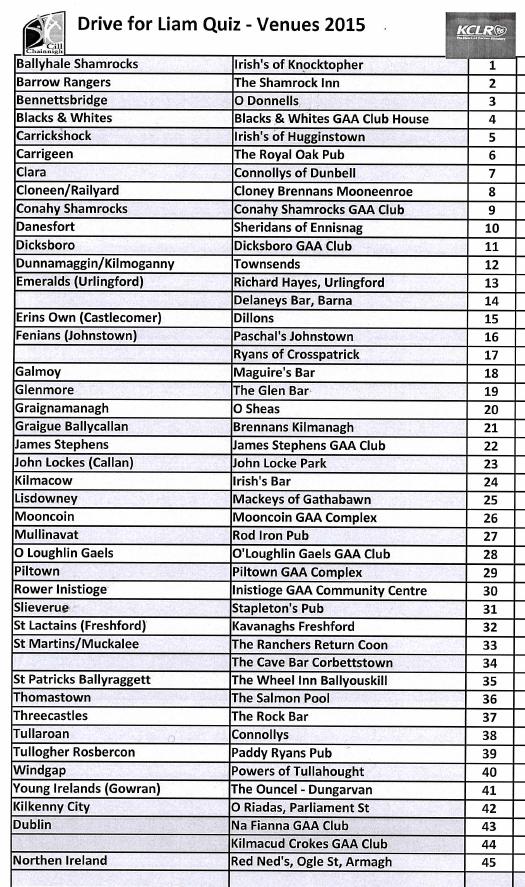 KCLR Live …
KCLR Live broadcasts from Carlow Museum with an action-packed show.  Music's with the talented Dale Bolger from Carlow town. Museum curator Dermot Mulligan will take us on a tour of the wonderful town centre museum.  There's another special report on heritage week – this time Monica Hayes goes to Baganelstown to meet historian Myles Kavanagh.  The weekly Garda Community Assist feature sees officers appeal for information on the robbery of the parochial house in Myshall during which a housekeeper was tied to a chair and left traumatised but managed to get to the back door to tell a passerby what happened.  And what's planned for Taste of Carlow?  That & lots more 10am to 12noon with John Masterson.
KCLR Lunch & Afternoons …
KCLR Lunch is presented by Lorraine Byrne today 12-3pm and she has more passes to the Wedding & Honeymoon Show at the RDS to give away amid great music:
https://vimeo.com/134931799
Coming up on KCLR Afternoons today 3-6pm there's another track from Eoin Carey's Featured album of the week.  Also on the show Eoin's all new look at random trivia focuses on language.  Plus it's Number 1's Wednesday. Find out what was number 1 on this day back in the day. All that plus the usual mix of great music and banter from 3.  This is one of the tracks from the featured album by the way:
Where To Go …
Hear the Great Debate on Samuel Haughton & Humane Hangings, join a book club, enjoy the last night of Ceoltoiri Kilkenny's summer sessions – details in our Where To Go.
This Evening on KCLR …
Our news team has a round-up of the day's stories on The Way It Is from 6pm.
The Frequency from 7pm has the latest in new music with songs like this one:
Jazz Cafe helps wind down your Wednesday from 10pm.
Join the conversation: text 083-306-96-96, call 1890-90-96-96, Facebook or Tweet @KCLR96fm & check out the Irish Radio Player App where you can catch up on your favourite bits from KCLR!