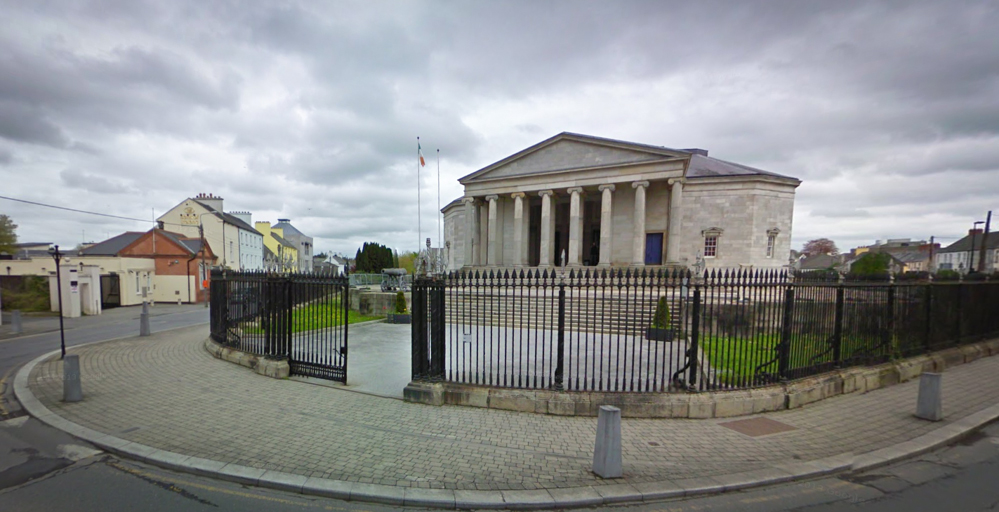 Sarah Slater
Two men who pleaded guilty to the attempted deception of a post office worker when trying to claim a pension from a deceased man have been sentenced to two-and-a-half years and two years in prison. 
Both co-accused Declan Haughney, 41, of 119 Pollerton Road, Carlow, a nephew of the deceased man Peadar Doyle, 66, and Gareth Coakley, 38, of 44 John Sweeney Park, Carlow town pleaded guilty to the attempted deception of Margaret O'Toole at Hosey's Post Office on Staplestown Road, Carlow town on January 21, 2022 contrary to common law after changing their plea from not guilty when the case opened last Tuesday.
Handing down his sentence at Carlow Circuit Criminal Court Judge Eugene O'Kelly sentenced Mr Haughney to two-and-a-half years with the final six months suspended for one year and Mr Coakley was handed a two year sentence with the final six months suspended.
Judge O'Kelly said that while considering his judgement he took into account the "distasteful and macabre" scene in the post office on the day in question.
"The attempt of deception and theft was (for a ) very modest (sum). It was at the lowest level of gravity but was highly aggravating. He was not responsible for Mr Doyle's death, only his attempted deception. But the seriousness of the offending conduct and culpability and harm done (was taken into consideration)," he continued.
"He showed a callous disregard and dignity towards a dying man. He refused offers of help (from a motorist when she noticed the three men near the post office) and abandoned him (Mr Doyle) on the floor when challenged by customers and staff.  He could have been left at home to have died peacefully and in bed. No person should die in those circumstances"
Remarking on Mr Coakley's sentence Judge O'Kelly said he was "marginally less culpable and was not a relative. He leant support to (Mr Haughney). His offence (on this occasion) is mid range."
Judge O'Kelly pointed out that a post mortem could not ascertain the exact time of Mr Doyle's death and that there was no evidence of foul play.
The court was shown CCTV footage from multiple cameras placed at various angles from inside the post office and from New Oak Community Centre.
A montage of footage showed Mr Haughney entering the post office shortly at 10.59am on the day of the incident. Dressed in a black hoodie with red and white stripes, black trousers and black runners he used his uncle's social welfare card which was out of date in an attempt to collect Mr Doyle's money.
Relatives of Mr Doyle's who attended the court left the room while the CCTV footage was being shown. Members of staff from Hosey's post office also were present in court.
In evidence Garda Joe O'Keeffe said that Mr Haughney told Ms O'Toole that his uncle was "unwell and that he had asked him to collect his money and that he had called an ambulance". However Ms O'Toole said the card was expired and that he was not a "named agent" a person allowed to collect monies on Mr Doyle's behalf. She then told Mr Haughney that he could not give him the money. Mr Doyle's sister Noeleen Dowling was the only other person besides Mr Doyle who could collect his €246 pension.
The court was informed that Mr Haughney then became "very aggressive" towards the post office staff saying his uncle was "at home, very unwell and that he would have to go and bring him down".
In evidence the court heard that Mr Haughney blamed Ms O'Toole for his uncle collapsing saying: "If you paid me, he wouldn't be here," while pointing a finger at her.
He left the post office and returned at 11.14am with Mr Coakley and Mr Doyle whom they were carrying with their arms around him. CCTV footage obtained by gardai from outside the post office along Bridge Str and from the Community Centre showed that Mr Doyle was being dragged along the foot-path.
While Mr Haughney and Mr Coakley were accompanying Mr Doyle to the post office they were observed by witness Claire Knight, who was driving into Carlow.
In her witness statement which was read out to the court by Gda O'Keeffe she said she saw the men close to Mr Doyle's home and thought that there might be something wrong with him as she "observed" him being dragged along by two other men.
She continuously watched them in her "rear view car mirror" and decided to turn her car around and go back to the three men. She did not get out of her car and said to Mr Haughney and Mr Coakley, "Is he alright lads?"
Mr Haughney answered "He's fine, he's grand," while Mr Coakely added that he had "called for an ambulance". However, Ms Knight decided to call 999 and ask for an ambulance herself.
The court heard that at this time Mr Doyle's eyes were fixed and his face was grey and that in fact "no ambulance had been called" by either of the two accused. Ms Knight, although having no medical training she formed the opinion that Mr Doyle was already dead.
She then followed the three men into the post office as they jumped the queue and went to the post office clerk's window. Mr Haughney, the court heard, he said to Ms O'Toole, "He's here now to collect (his money) and pushed him against the partition in front of Ms O'Toole.
However, she could not see his face as it was obscured by a grey hat he was wearing along with a grey jersey top.
Prosecution Counsel Niall Storan (BL) said at this point Mr Haughney shouted: "He's dead, he's dead. She (Ms O'Toole) wouldn't pay. It was her fault (meaning Ms O'Toole) If you paid me (before) he wouldn't be here."
Ms Knight along with other customers in the post office reacted in a shocked manner. From the CCTV Ms Knight could be seen to be on her mobile phone to emergency services as Mr Haughney and Mr Coakley placed a motionless Mr Doyle sitting on the floor and then into the recovery position.
Another employee Ashling Muldowney could be seen running upstairs to get a chair for Mr Doyle to sit on.
CPR was then performed by Ms Knight under guidance from the National Ambulance Service (NAS) when a defibrillator located in the post office was found to be flat.
Gda O'Keeffe said that he received a phone-call at 11.15am that a man had been seen being "dragged" along Bridge Street. In a subsequent phone-call shortly after he was told that the man seen being dragged may have had a heart attack and to bring a defibrillator.
He took over CPR from Ms Knight, followed by two firemen and then by an advanced paramedic but following advice by phone from Cork University Hospital they ceased attempted resuscitation at 11.40am.
Mr Doyle was declared officially deceased at 12.40pm by a GP and later removed from the post office.
Gda O'Keeffe explained that Mr Haughney lived with his uncle from a young age as his mother had died and he had no relationship with his father. Gda O'Keeffe said his relationship with his uncle was "not the best at times."
In a victim impact report read out to the court by Gda O'Keeffe, Ms O'Toole said that she had worked at Hosey's post office for over 16 years and had "always enjoyed my work."
"But everything changed (that day). It was traumatic and upsetting."
A victim impact report from Mr Doyle's family was read out to the court. The report said that the family wanted to express their "gratitude to the court for allowing them to speak as they have had mostly silent voices.
"Our family has been badly affected (by the events) and the media outlets caused most of the damage. This story sent shock waves around the world and has devastated our family."
The report outlined that occurred on the day and subsequently has "been a traumatic battle" for the family, that they have been put through "the court of public opinion and not been able to leave their  homes and have been threatened by people, received hate mail and remain deeply hurt and that their pain will never leave them."
In particular Mr Doyle's sister Mrs Dowling explained: "My brother has been ridiculed," that her life is not her own anymore, that she cannot sleep, suffers flashbacks and her sanctuary (life) violated.
"Peadar was a caring loving, brother, a charismatic character, he loved us so much. He loved his nieces and nephews unfathomably," Mrs Dowling added in the report.
The court was informed that Mr Haughney had a serious heroin addiction and had 55 previous convictions while Mr Coakley had 49 previous convictions, was a serious heroin, cannabis and alcohol addict and is a father-of-two.
Defence barrister David Roberts read out two letters of apology to the court from Mr Haughney, one addressed to his uncle's family and in particular to his aunt and sister of Mrs Dowling and one to post office clerk Margaret O'Toole.
The letter of apology to Mr Haughney's aunt said that he "deeply regrets and is deeply remorseful and is deeply sorry that he didn't raise the alarm (over the health of his uncle sooner) along with his actions on the day."
To Ms O'Toole he said in his letter that he was "sorry he traumatised and upset" her and that he hoped she would "work well into the future".
Mr Roberts pointed out that Mr Haughney is a "loved member of his family and is supported by them." He informed the court that Mr Haughney had remained in prison serving another sentence but opted to remain there despite having consent to bail. Mr Haughney has been taking part in a brick laying course and has enhanced privileges, has tested negative to all random drug tests and hoped to gain employment.
Mr Richard Downey (BL) for Mr Coakley said his client was on a methadone course since being remanded in custody last Wednesday and that he and Mr Haughney "would be inextricably linked to these tragic circumstances" and that Mr Coakley "wasn't in his right mind on the day".
Both men, the court was told by Garda O'Keeffe co-operated with Gardai at all times when giving voluntary statements in the hours after Mr Doyle's death. They were formally arrested on January 26, 2022.
Upon sentencing Judge O'Kelly added that he was taking into account their guilty pleas, but that they cost the court system a lot of time and money in not pleading guilty sooner.  He pointed out that Mr Haughney had already been found guilty for stealing his uncle's old age pension while he was in hospital several years ago and that Mr Coakley had shown no real attempts to engage with probation services in the past.
Neither of the men showed much emotion upon sentencing but Mr Coakley when replying did he understand the sentence said: "I do. Thank you. Thank you, your honor".