Here are your main local talking points for today!
Locally:
The biggest ever dairy industry investment in the history of the state opens in South Kilkenny later.
The Sue Nunn Show had a huge response to Breda Gardner's comments that she would 'regurgitate her sandwich' if she had to attend EU Agriculture Commissioner Phil Hogan's civic reception in Kilkenny. The show today will ask the Fianna Fail Councillor who proposed to honour Phil in his home city, jsut why he was chosen. Also: how Labour Minister Ann Phelan is next in line for a civic reception.
That Electric Picnic line-up…what are your thoughts?
Dr Eva Osmond will answer your cholesterol questions!
Nationally:
Are IAG about to make a better offer for Aer Lingus?
Sport:
Canning unlikely to return for Cats visit to Galway.
Entertainment:
Hozier got quite the reaction in Montreal last night. "Montreal, you floored me tonight. Absolutely levelled. Thank you."
Got a Fun Mum?
We're gathering daily qualifiers for the Fun Mum finale. If you've a funny story about your mother we want to hear it – you could win her €1,000 travel voucher with thanks to Ristorante Rinuccini!
Student Enterprise Awards …
More from local entrepreneurial students from Carlow on KCLR Breakfast & from Kilkenny on The Sue Nunn Show.
Where To Go:
Got an old jacket you don't need/want anymore? Someone needs it. The Jacket Off Your Back and Syrian Children Appeal takes palce at Carlow Farmer's Market at Potato Market on Saturday from 9am to 2pm.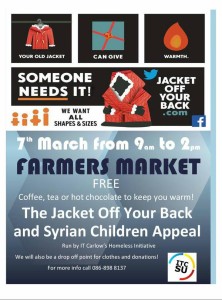 Tonight on KCLR:
Distant Noises with John Purcell continues between 10 & 11, with music highlights from all over the globe.