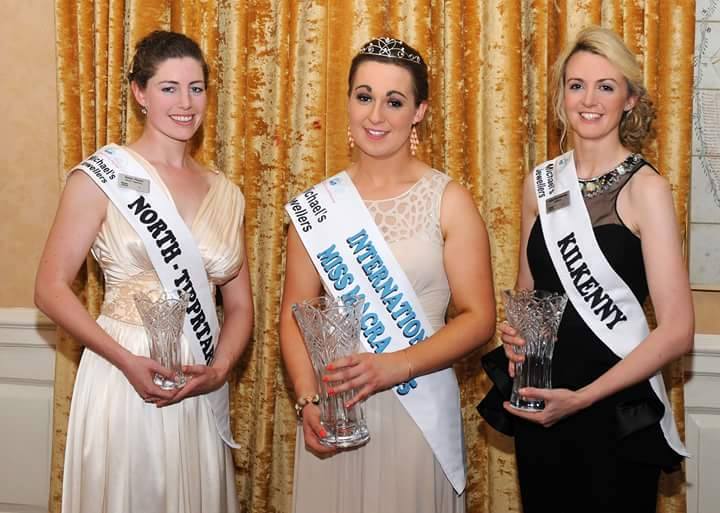 In News …
Locally:  The HSE has been granted an extension to continue to run a unit at St Patrick's Centre in Kilkenny until well into September.  Car sales locally are up 19% on this time last year with Volkswagen the top buy.  Carlow's Susan Willis is the new Miss International Macra – here she is with Kilkenny's contestant Julie Muldowney and North Tipperary's Helen Hayes (cheers to Julie's sister Kay for the pic!)
Elsewhere:  Those aged over 70 in Ireland can avail of free GP care from today.  The Arch Bishop of Dublin is defending the rule in Catholic schools which prioritises children who were baptised.  The Taoiseach intends to lead the next Dáil and the one after that.  27 people are now believed to have been killed in two train derailments in India.  The official inspection gets underway in France today of a plane part found on Reunion Island in the Indian Union.
Keep up to date with what's going on with our bulletins on weekdays each half hour 7-9am, hourly to 4pm, half hourly again 4-7pm & hourly thereafter.
In Sport …
Kilkenny senior hurlers train before fans at Nowlan Park this evening from 7.  Action in the All County League saw wins for Rower Inistioge, Mullinavat, Carrickshock, Graigue-Ballycallan, Dicksboro, Bennettsbridge, Erin's Own and Tullaroan.  In Carlow's Junior Football Championship play last night victory was for Ballon, Fenagh & Pallatine.
Get the latest in local sporting fixtures & results with international news across the day with extra updates on weekend afternoons.  You'll also catch some titbits on our website here 
In Entertainment …
Celebrities are splitting up left, right & centre – most recently Perrie Edwards of Little Mix & former One Directioner Zayn Malik.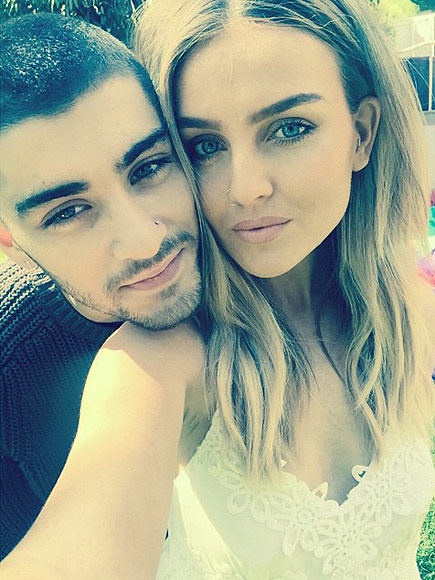 AND The Muppets stars Kermit the Frog & Miss Piggy have also ended their personal relationship after this statement: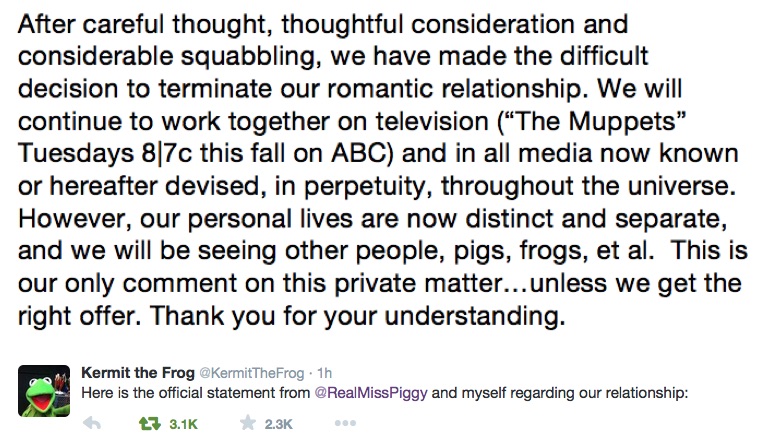 No more of this so: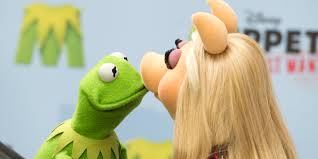 KCLR Breakfast …
John Walsh & Edwina Grace have KCLR Breakfast from 7-10am with Advance Pitstop Carlow.  Tune in to find out about the world you're waking up to amid great music & chat.  By the way, did you hear what happened to poor Lenny Kravitz while he was performing in Sweden?
https://www.youtube.com/watch?v=fik5mClNU-s
KCLR Live …
John Masterson brings you KCLR Live 10am to 12noon with the day's issues and more.  Together for Better – we hear from some of those vying €1,000 worth of Kilkenny Cafe vouchers. We have a grand total of €5,000 worth of
vouchers to give to five local charities to sell to raise much-needed funds.  John will be hearing the latest on St Patrick's in Kilkenny where the HSE have been working
with the families of 28 adults with intellectual disabilities.  Crimes in Carlow and Kilkenny will be looked at by local officers in the show's weekly Community Assist feature with Carlow-Kilkenny Gardai brought to you by AP Systems.  Honeybees are declining…we find out more from a local honey producer.  And John Masterson is in good form today – he's had his fresh coffee but you tell us what puts a smile on your face in the mornings!
KCLR Lunch …
Join John Keane on KCLR lunch today from 12noon. He will be posting the best famous animal pics onto our Facebook page. Have you got one to share?  Here's John's favourite so far: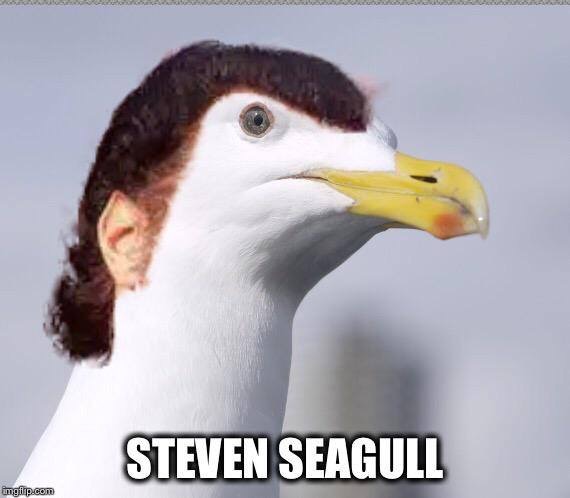 KCLR Afternoons…
Eoin Carey is on the way from 3 with KCLR Afternoons with all of Life's random musings, Traffic & Travel updates through the evening and as always the very best music.
Where To Go …
Catch a film, enjoy a traditional seisiún & more – details in our Where To Go.
This Evening on KCLR …
Our news team has a round-up of the day's stories on The Way It Is from 6pm.
The Frequency from 7pm has the latest in celebrity gossip, what's going on locally & the most up-to-date sounds, with songs like this one:
Then unwind your Wednesday with Jazz Cafe from 10pm.
Join the conversation: text 083-306-96-96, call 1890-90-96-96, Facebook or Tweet @KCLR96fm