Catch Up
Taste 4 A Tenner
#taste4atenner: Ken McGuire's Leek & Lemon Risotto
There's even change left over for an ice-cream on the way home or go all out and add some white wine for even more flavour.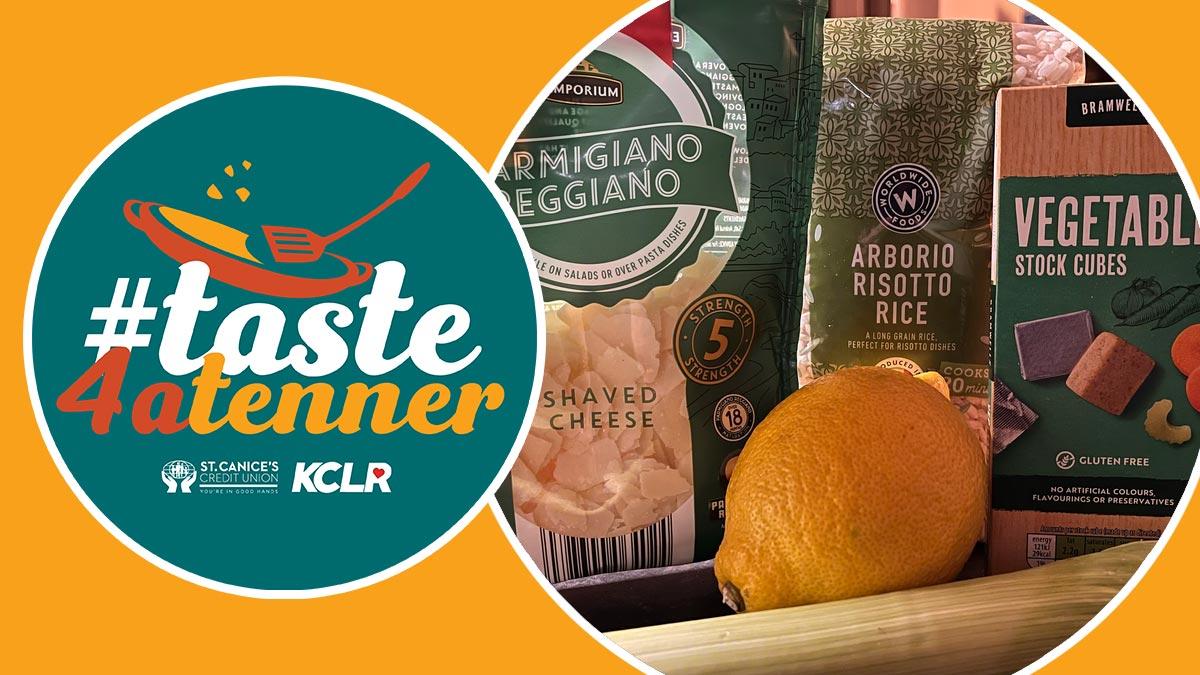 KCLR's station engineer Ken McGuire is very much a food lover and jumped at the chance to share a quick and easy recipe in our third #taste4atenner challenge with St. Canice's Credit Union.
This is a tasty dish where, still keeping your shopping under a tenner, you could extend the ingredients to make 8 or 12 portions. You may be familiar with seeing a risotto on a restaurant menu, jumping between starters and main courses, but it's not restaurant-difficult to prepare at home and this method will easily feed a family of four or four adults all for under a tenner.
The trick to cooking a Risotto is to add your stock bit-by-bit and keep stirring all the way to the end (when all the liquid is absorbed).
In preparation, I've used an old Le Creuset dish but if you've got a wide pan or pot you can cook everything on the hob, in one dish, keeping the cleaning down afterwards. It's a vegetarian dish, but you won't have to look far for meat options. Don't fancy leek? Substitute in mushrooms. Some people like to add frozen peas right at the end. Don't fancy using cheese? That's no problem either, you should still get a creamy result regardless thanks to the cooking process.
Ken's Leek & Lemon Risotto
Serves 4
Prep 10 minutes
Cooking time 25-30 minutes
Total time 40 minutes
Utensils & cupboard ingredients
Wide-base pot or pan
Chopping board, chopping knife
Fine grater
Weighing scales
Measuring jug (glass ideally)
Olive oil or butter
Shopping List (€6.38)
1kg bag Arborio Risotto Rice – 3.05 Aldi
Parmigiano Reggiano shaved cheese 80g – 1.25 Aldi
Large Leek (loose) – 0.51 SuperValu
Large Lemon (loose) – 0.59 SuperValu
Bulb garlic – 0.49 SuperValu
Box vegetable stock cubes – 0.49 Aldi
Ingredients
1 tbsp olive oil or same of butter
1 large leek, pale end, approx 100g weighed
2 cloves garlic
300g arborio risotto rice (roughly 1/3 of the bag)
900ml vegetable stock (900ml boiled water plus 2 vegetable stock cubes)
60g grated Parmigiano Regianno cheese
1 lemon, zest and juice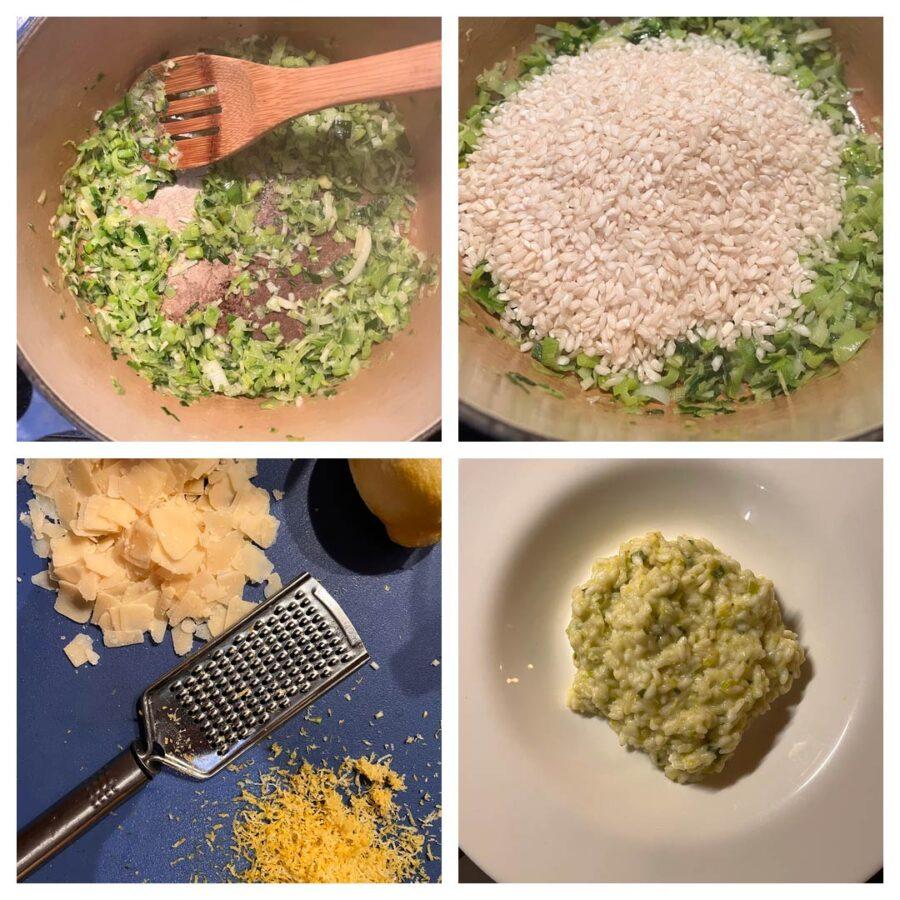 Method
Finely chop leek and garlic separately
Grate outside of your lemon (all of it) for lemon zest
Chop lemon in half, remove the pips
Weigh out 300g of rice or look at side of packet, may be split into 50g markings (count six).
Boil kettle for water to make up 900ml vegetable stock (900ml water in your glass measuring just, stirring in two stock cubes)
On a medium-high heat on a hob (4 out of 6 in my house), heat your pan and add in 1 tbsp olive oil or the equivalent of butter.
Add your chopped leek and sautée for 1-2 minutes, keep stirring so that they're coated in oil or butter
Add garlic and continue stirring for 1 minute
Add 300g risotto rice and stir thoroughly for 2-3 minutes so the rice gets coated in leek, garlic, oil/butter mix. This has the effect of lightly toasted the rice.
Add 1/4 of your stock mix, slowly stirring until all the liquid has been absorbed.
Repeat until all the stock has been mixed in and soaked up. This process can take up to 20 minutes
When all liquid has been absorbed, stir in 60g grate Parmigiano Reggiano cheese until melted through
Stir in lemon zest, squeeze two lemon halves in, ensuring all mixed through.
Plate and enjoy
Holding back 20g cheese, you can sprinkle a little on each dish. If you've still got lemon zest or didn't get all the juice out, add a fresh squeeze to each dish on the plate before serving.
Freshly cooked, you'll get 2-3 days out of this in a sealed container in the fridge. While microwaving is handy, it's better to reheat the risotto on the stove again, adding a little water to start, get back to stirring, until your risotto is nice and creamy once more.
Throwing an eye over the aisles, there's just enough change left from the tenner to pick up a single-serving bottle of white wine that could be added to the dish in place of some of your stock (about 187ml). The alcohol can evaporate off quickly enough through the cooking method, the white wine adding to the flavour and gets you closer to a signature Italian style of risotto.
For more from Ken, check out kenonfood.com.
Listen: #taste4atenner with Ken McGuire on The KCLR Daily