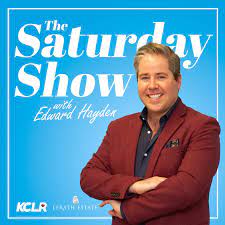 On today's show we spoke to our resident gardening expert Shirley Lanigan about how to clear soggy leaves on the ground.
We were live from the new Chemist Warehouse in Carlow and spoke to the Chief Marketing Officer Angela Neophitu. 
Bride de Roiste from Glor Ceatharlach joined Edward for an Irish catch up.
For our Healthy Habits segment we spoke to the Chemist Warehouse Manager Margaret Stynes about vitamins and staying healthy this Winter.
We had an amazing chat with Brian Dowling Gourounlian and Arthur Gourounlian about their book "Modern Family" and their daughter Blake.
Jennifer Murnane O'Connor spoke about supporting local Carlow businesses this Christmas.
National Operations Manager for the Chemist Warehouse Kristian Pulis had a chat about living in Ireland and aspects of his job.
Louise Morrissey spoke about the celebration of her 35th Anniversary in country music, she will be live in Hotel Kilkenny on 10th December.
Listen Back Here: